ABOUT BETH (FOUNDER & CHIEF CHOCOLATE OFFICER) AND CHOCOLATISM:
When Beth was a child, her Dad brought home chocolate cakes and candies weekly. She and her Mom baked constantly and invented the EGBG bar, which tastes like a famous Crunch Bar. Is there any wonder she grew up to be a chocoholic!!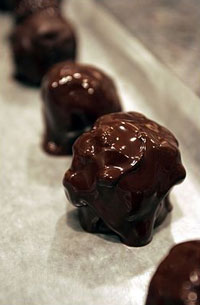 While Beth was working for a consumer products company, a woman in her department made wonderful peanut butter balls. Beth ate a bunch, took extras home and smashed them to try to re-create the recipe. Thus, the Peanut Butter Bon Bon was born. She made a batch then brought them to her family for Thanksgiving. They were gone before dinner! To this day, her nephew is still trying to figure out the recipe!!

Chocolatism specializes in producing high quality, hand made bittersweet chocolates, cookies and products. We work with semisweet, milk and white chocolate as well. Because no event or celebration is complete without chocolate, please contact us for:
Corporate: Chocolate Team Building Events; Chocolate Tastings; Gifts for all occasions.


Events: Parties; Showers; Bachelarettes; Birthdays, Sweet 16; Weddings; Favors.


Product Sales: The Ultimate Chocolate Brochure details the perfect chocolate gift to choose from.
Ask about Custom Products for you.
Living a healthy lifestyle and giving back to our community and world is important. We are happy to give a portion of our profits to charity.

At Chocolatism, we create Chocolate you can believe in!



Download the Ultimate Chocolate Brochure
To place an order or to ask any questions contact Beth at 917-951-1683 or beth@chocolatism.com